When I heard about Enchroma's revolutionary color blindness-correcting technology through videos and social media posts, my first reaction was: "How do Enchroma glasses work, anyway?" It seemed too good to be true, so I decided to do some research of my own.
What I found is that although Enchroma technology doesn't cure color blindness by any means, their technology uses a clever application of precision optics to transform vision for some color blind people. The result is a truly life-changing experience for many who have tried Enchroma glasses.
To understand how Enchroma glasses work, it helps to know how color vision works normally and how it goes awry in cases of color blindness.
A quick primer on human vision
When light enters your eye, it is detected by two types of photoreceptive cells called 'rods' and 'cones'. Rod cells detect dim light and help you see at night, while cone cells detect brighter light and help you see during the day. Humans have about 120 million rods and 6 million cones in each retina. Cone cells come in three flavors that are each maximally sensitive to a different wavelength of light: blue, red, or green. Our ability to distinguish a rich diversity of color is a result of this trichromatic system.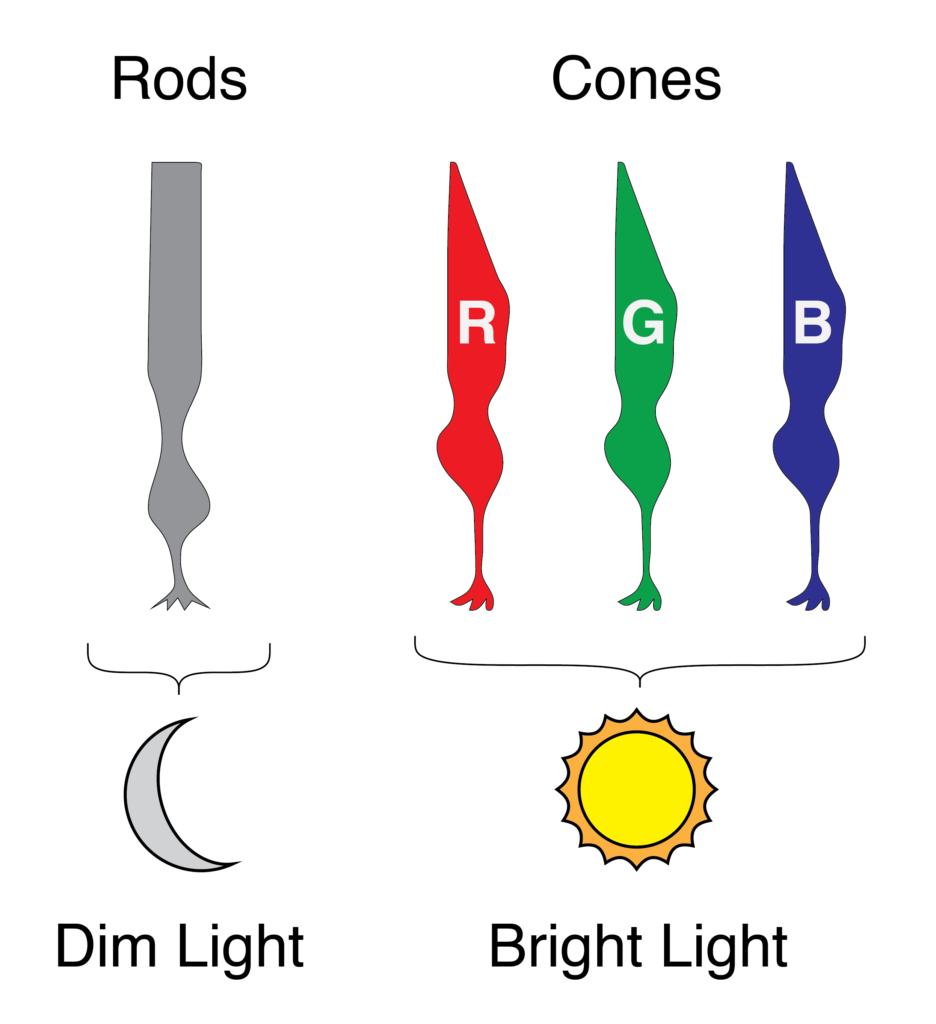 Humans have two major types of photoreceptor cells: rods for dim light vision, and cones for bright light color vision. Their names are derived from the shape of the top part of the cell.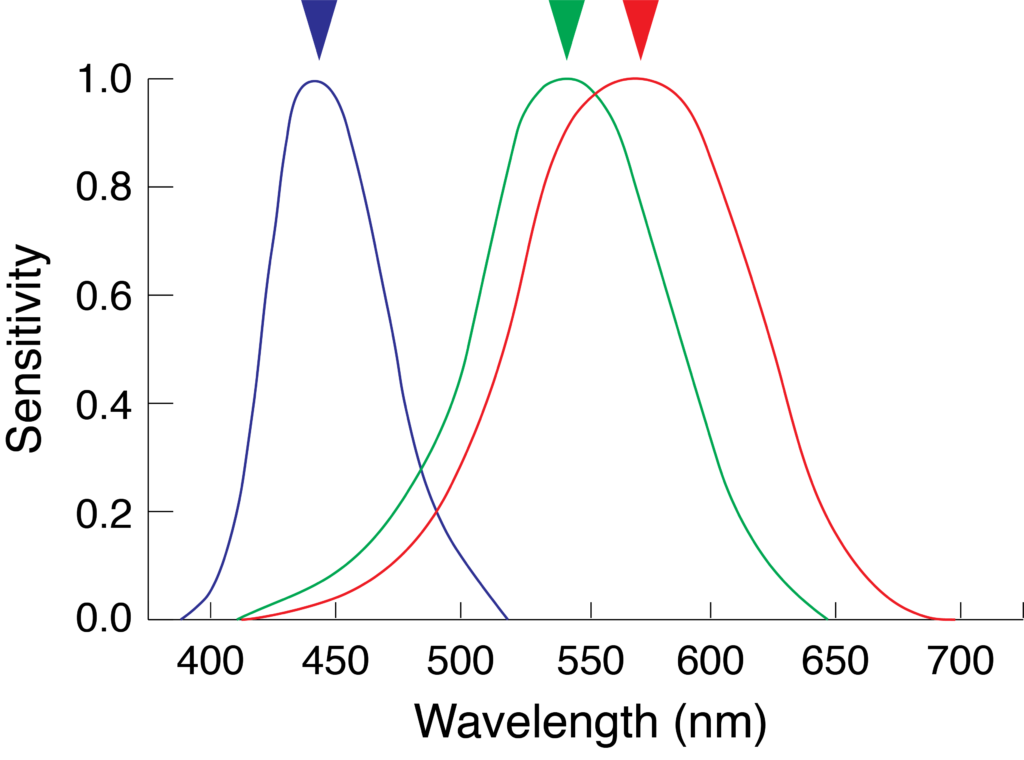 The three types of cone cells in humans are maximally sensitive to different wavelengths of light, as shown on the left.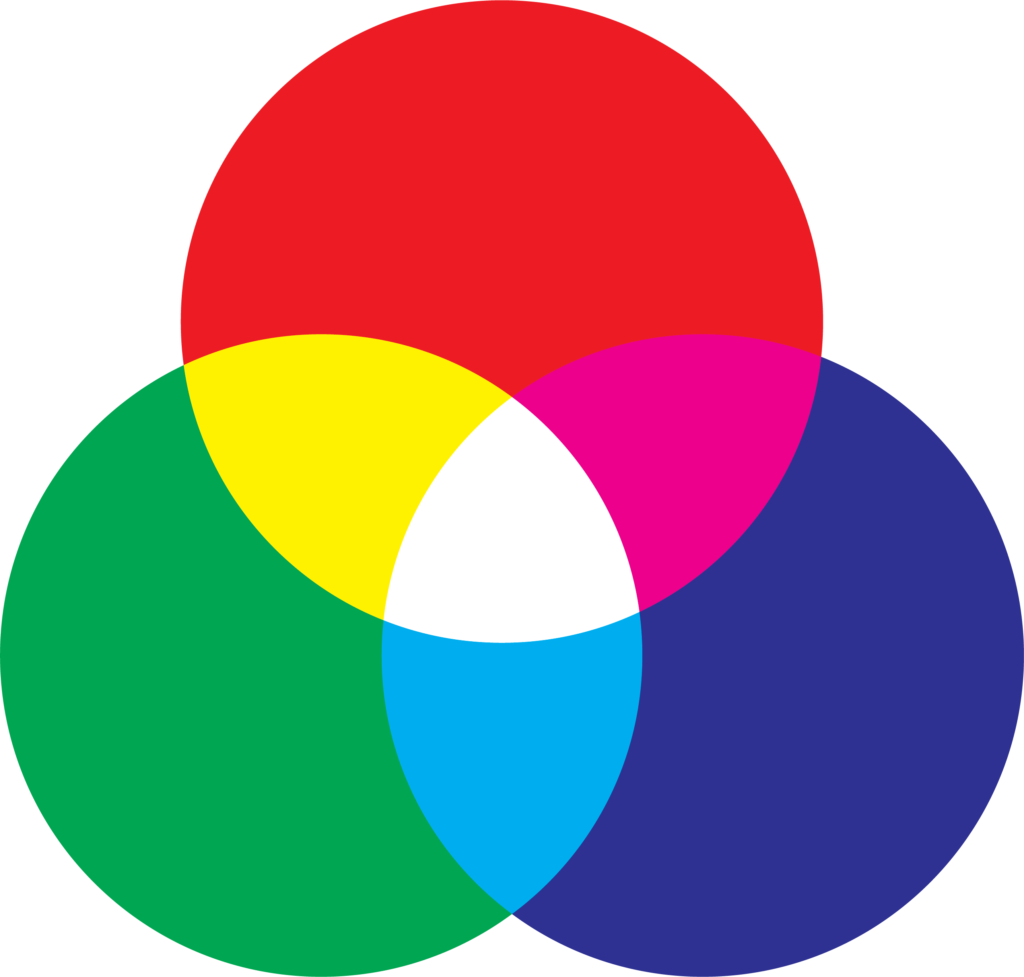 Having three cone types (red, green, and blue) allows humans to see a rich diversity of colors. Here's a simple example of combining RGB colors together, but there are millions of additional combinations!
What causes color blindness?

Though there are many types of color blindness that affect vision in different ways, red-green color blindness is the most common. This type of color blindness specifically impacts the red and/or green cone cells. The result is a diminished ability for affected individuals to distinguish between those colors. Red-green color blindness affects approximately 8% of males and 0.5% of females worldwide, depending on ancestry.
There are four types of red-green color blindness:
Protanomaly – abnormal red cone cells
Deuteranomaly – abnormal green cone cells
Protanopia – no working red cone cells
Deuteranopia – no working green cone cells
Enchroma technology enhances color vision only in cases of protanomaly and deuteranomaly, in which red or green cone cells still function but are abnormal. In these cases, individuals have a difficult time distinguishing red from green because the absorption of these colors is more overlapping, as demonstrated below.
(In cases of protanopia and deuteranopia, cones are completely non-functional, so Enchroma optics alone aren't enough to enhance or repair their color detection)
How do Enchroma glasses work?
By filtering out highly overlapping wavelengths, Enchroma's proprietary technology makes it easier for red-green color blind individuals to distinguish red/green color differences. The effect, though not perfect color vision, is an increased apparent palette of colors that is a striking experience for life-long color blind people.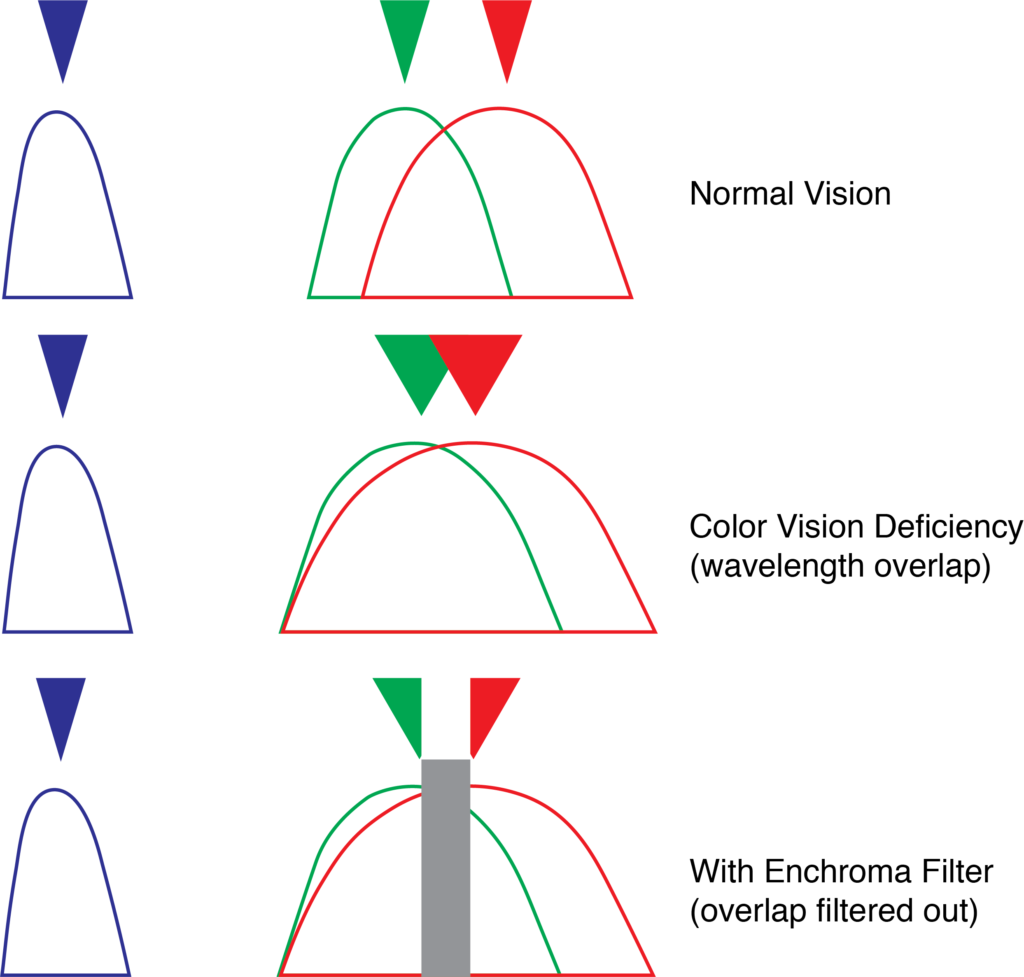 Red-green color blind individuals have difficulty distinguishing color because their cones have increased overlapping wavelength detection. Enchroma sharpens color perception by filtering out the overlapping region.
How is this accomplished? Enchroma has worked for years to perfect the mathematics and optics behind their proprietary lens technology. But as with many scientific discoveries, the original breakthrough of Enchroma technology was stumbled upon quite by accident…
A serendipitous discovery
The technology behind Enchroma was originally developed by Don McPherson, an Alfred University graduate with a Ph.D. in glass science. In its original form, his glasses technology was designed to aid and protect surgeons performing laser surgery. Heavy metals embedded in the lenses absorbed significant amounts of light to keep the surgeons safe. In addition to increased safety, the glasses increased the saturation of most colors, making it easier to distinguish blood from tissue during surgery.

McPherson's glasses also had the benefit of looking stylish, so he and many doctors used them outside the operating room as regular sunglasses. One fateful afternoon McPherson wore his 'surgery sunglasses' to an ultimate frisbee game, where a color-blind friend asked for a look. To his friend's amazement, he was able to see colors that had been muted just moments before.
The road to Enchroma
Recognizing the potential for this technology to change the lives of millions of color blind people around the globe, McPherson applied for funding from the US National Institutes of Health to help develop his glasses further. Soon after that, he began working with UC Berkeley-trained mathematician Andrew Schmeder to improve the optical properties of the glasses to best enhance red-green color deficient vision.
In 2010, the duo founded Enchroma and launched their first pair of glasses two short years later in 2012. Since then the company has expanded to provide styles including outdoor, indoor, kids, and 'fitover' glasses.
Are there any risks?
Since Enchroma technology is a simple, wearable device, there are practically no risks to using it. In fact, all Enchroma lenses are 100% UV blocking, which means you're probably safer wearing them than not! They also don't have any long-term effects on your vision.
Since these glasses aren't perfect for every type of color blindness, the only risk you take is that the effect might not be as pronounced as you hope.
How much does it cost?
This life-changing tech doesn't come cheap, but the potential reward is well worth the investment. Kids glasses start at around $270, while adult Enchroma glasses range from $300 – $430. Every pair can be ordered with or without prescription lenses, which run an additional $150 – $250 depending on prescription type. You can also buy refurbished glasses, which start at $230 for adult frames.
Is Enchroma right for me?
As mentioned before, Enchroma glasses only work for red-green color-blind individuals with conditions of protanomaly and deuteranomaly. Check with your doctor if you're not sure which type of color blindness you may have. To make sure you're getting the right lenses, check out Enchroma's lens guide before you buy.
Enchroma is on the cutting edge of vision enhancement. Right now there is no cure for human color blindness, though some gene therapy trials are in the works. Until a cure exists, color vision upgrades like Enchroma give people an exciting new way to see the world.